Charts, Charts and Charts: Bitcoin, Gold, Silver
Trends remain in place. While last week gold showed strength, punching through $1,620, a key resistance level, it could not hold that level on this Monday, the day of the week Bob Chapman used to cite as generally a down-day for the metals. Over the last five days, Bitcoin has continued its steady climb, reaching $12.00.  The chart suggests that we could see this momentum carry us through to $13-15 before Bitcoin rests for inevitable consolidation.  As Bitcoin continues its climb, it makes its way increasingly into the press, thus creating a feedback loop in which buying demand and miner interest pushes the index up.
Bitcoin over two months:
Silver, on the other hand, has trended between $29.40 and $26.44. Generally, it has trended down, as the following 3-month chart begins with a silver price of $28 and ends at the current price of $27.90.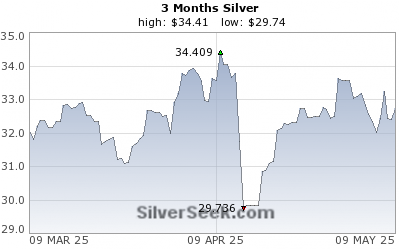 Silver trended downwards from the low $28 handle to $27.80 on 8/13/12. Gold has shown a clear ascent, whilst silver has been plain volatile and trended downwards, revisiting last week the sub-$27 handle. Usually a bull market stock will revisit a price 5-6 times before making a move of 150%. Silver has revisited the high $26-handle ten times or so without much of a breakout in the last year. Silver's performance relative to gold hints at new shorts coming into the market. For nearly six weeks, the Comex silver OI fluctuated between 121,000 and 124,000 for almost six weeks from 6/28 – 8/3. On 8/3, the open interest increased as silver rallied 80 cents from $27-28.20. The total OI last Thursday was 125,491.
Resistance currently seems strong at $28.20, and the last week has been volatile for silver, suggesting that there is much taking place in the paper game, as shorts increase and short-term power plays do as well:
This volatility suggests something new surely taking place in the silver market.  Whereas in the weeks before the CFTC announcement of a cease of investigation into silver manipulation the metal traded calmly,  in the week after the price has shown tremendous volatility. For gold, the waterfall dance was the defining characteristic of the day. After taking out $1625 with a spike-top to $1630, it has now fallen off this high to sit at $1614.
The current Bitcoin – precious metals ratio are as follows:
Bitcoin-silver: 2.38-1
Bitcoin-Gold: 134.39-1
Bitcoin-Platinum: 115.9-1
Bitcoin-Palladium: 48-1
The precious metals complex seems poised to remain on its doldrum course for the coming months. It seems that these bull markets will experience extraordinary consolidation periods. They were allowed to run for about a decade straight before the metals in 2012 have been flat. This trend will not continue for 10 years, but it could for 2-3 if not five. Consider that we are already more than one-year into silver's consolidation from its top last April and the long-term nature of these markets becomes clear.
Based on the aforementioned ratios, now is a good time to move your Bitcoin into palladium, platinum and silver. Gold makes less of a compelling case to get out of BTC for GLD. The other three, however, are clearly trading at the low-end of their short-and-medium trading ranges and haven't demonstrated much reason to think they will trade much lower than these $$$  assuming there is no major market crash in which people, instead of seeing Gold and therefore silver as Tier-1 or quasi-Tier-1 capital, sell their metals for cash.
With that aside, the precious metals do seem poised for continued flat trading. Bitcoin, having reached a high of $30, could be moving towards a period of upside volatility in which there are plenty of opportunities to see appreciation in the Bitcoin sector. Perhaps a risk-on play, moving into Bitcoin, will continue to be the smart-move it has been over the past few weeks.